everybody´s free choice to attend schools with different religious beliefs and faiths.
Since the second world war, we try to safeguard these freedoms and solidify these in international agreements and conventions , in our constitution, the bill of rights and freedom and other laws. But above all, these liberties are anchored in our hearts. Those who attack these liberties, effect everyone on earth, who treasures freedom, peace and democracy deeply. Let us remember and not take our freedom and democracy for granted. Let us find solace in the fact that the longest lasting friendships have developed between different people during difficult times.
Thank you for our liberation.
Marie van Rossen , Mayor of the city of Alkmaar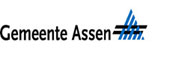 ASSEN
Young men who put their lives at stake to liberate us from a ruthless regime.
Assen, 13 April 2005, liberated for 60 years.
On Wednesday, April 13th, 2005, we dwelt upon the fact that 60 years ago we were liberated by the French, the Poles and the Canadians.
On that day I was invited to open an exhibition featuring the work of Truus Menger, a former resistance fighter, now 81 years old. Her works bear testimony to the war years between 1940 and 1945, a period which may never be forgotten.
Although she was just a young girl when she went on such dangerous missions, among which to liquidate Germans, she has always advocated peace and tolerance. This symbolism is reflected in her works of art.
April 13th made us think of those young men from the free world who literally put their lives at stake to liberate us from a ruthless regime.
The text and pictures in the issue entitled "Memories of April 13th, 1945" of Assen's Historical Periodical, illustrate the delight felt on that day as well as the fear. Young soldiers like Clem Irvine, Earl Thompson and Ray Knight are quoted. Earl, who visits a Dutch family and falls asleep. His buddy wakes him up with the news that they have to advance towards Groningen. And so the liberators move on to end the war.
Sixty years after the liberation there are still many people in Assen who can remember meeting the Canadians as if it were yesterday. A picture of Assen on April 13th taken by Jan Otter and printed elsewhere in this paper gives a good idea of the joy felt in front of the town hall in Assen.
"Tulips 2005" is a fantastic initiative. It demonstrates that commitment to peace and safety is timeless. The required efforts
remain in force, considering the many hotbeds across the world, but Assen and Canada are inextricably bound up with each other.
Thank you all.
Dineke van As- Kleijwegt, Mayor of Assen
DEVENTER
Soon we would be free again
Canadian Liberator Freeman of Deventer
Our liberators
Memories of the final year of war. Names and events: Zutphen, Gorssel, de Schipbeek, de Gestapo-jail on the Oxerhof, Bahtmen, Colmschate, Lettele, Okkenbroek, Diepenveen, Schalkhaar, the anti-tankcanal at Brinkgreven, and finally the warm welcome in Deventer. Many Dutch people remember the names of the men from the General Ron Keeflers troups. All of them together they gave us back one of the most precious gifts of life: Our Freedom.
Deventer liberated.
Deventer was liberated by the 7th Brigade from General Gibson between April 7th and April 10th 1945. This brigade was part of the third Canadian Division and after the liberation moved eastwards along the River IJssel to the North. On April 11th 1945, the first Canadian Division (secretly transported to Holland from Italy, where they fought a fierce battle) had to line up. Their attack over the river IJssel between Gorssel and Wilp was the beginning of the end of the war in The Netherlands. Soon we would be free again. Main target of this attack was Apeldoorn. During this process, the 48th Highlanders of Canada from Toronto, conquered 'de Hoven'. By the end of the afternoon of April 12th, the whole city of Deventer was FREE again.
Order restored.
A Canadian Military Administration was installed. Vincent O. MacDonald was installed as Townmajor. He was succeeded by Captain S.A. Heatherington in July of that year. In the summer of 1945 British Royal Engineers came to Deventer to reconstruct the railway bridge, which was completely destroyed during the war. Nowadays this bridge has been replaced but on both sides of the banks of the IJssel remains of the bridge are still to be seen and bring back memories of that time.
General T.Greame Gibson was appointed to be freeman of Deventer on April 22th, 1945. His name was registered in the 'Gulden Boek' of the city. He was the first person to have this honour. Citizens, companies and institutions that have proved Deventer a good service are mentioned in this book. The freedom after General Gibson, has been granted only to mayors of Deventer at the moment of their

farewell.
The people of Deventer are still very grateful for what you did for us, so they gladly like to say again and again: THANK YOU CANADA!!


ZWOLLE
"Then she would still be alive..."
The following is an account written by Wil Cornelissen, a remarkable Jew from Zwolle who was granted the medal of honour of the city. He is also story-teller par excellence at elementary schools in Zwolle, relating accounts of the Second World War. This one is about the liberation of Zwolle on April 14, 1945. As you know, Zwolle was liberated by the Canadians. Our first Canadian liberator, Mr. Leo Major, was appointed honorary citizen of Zwolle on April 14th, 2005.
April 14th
Years after the war, my mother's doorbell rang. It was the 14th of April, the date on which Zwolle, my town of birth and place of residence, was liberated. Coincidence? Ah, well, the rabbis say there is no such thing as coincidence. Let's just keep it at that.
It was Tonny who stood on the doorstep. Years before the war he had been engaged to my Jewish cousin, Elly. They had even already given notice of their intended marriage. But they never did get married.
Tonny had been very fond of my mother. And the feelings were mutual. He called my mother Auntie Truus.
Seeing each other again after so many years, brought tears to their eyes. Tonny was the living memory of the part of our family that had perished. Of Granddad and Grandma, Uncle Jochem, Nanny, Lily, and all the others. And of Elly, too. They had all been transported east and never made it out of Auschwitz, Sobibor and Bergen-Belsen.
He told us that for quite a while after the war he had worked as an interpreter for the Canadian troops. Did he know it was Zwolle's liberation day today? No, he had no idea.
Tonny had a big problem. His relationship with Elly had broken up at the time. "But what if the wedding had taken place? Then Elly would have been saved. It would have been a mixed marriage, just like Auntie Truus'. And then she would not have been sent to an extermination camp. And if the marriage later turned out to be a mistake, then they could simply have got a divorce, right? Then she would still be alive..."
My mother and Tonny talked for hours. They embraced for many minutes when he left. As if it was only then that Tonny actually bid his goodbyes to the family and to Elly.